Baby Boomers and Gen Xers:
Your retirement is at serious risk
If you have money in a 401(k), 403(b) or IRA, you stand to lose far more than you think to federal and state income taxes.
In this book by Dan Cuprill, CFP®, with a foreword written by Jerry Royer, RFC®, and Nicholas Royer, MRFC®, you'll learn:
The threats retirees can face in today's environment
How you can better secure your savings and Social Security benefits from taxes
MUCH MORE!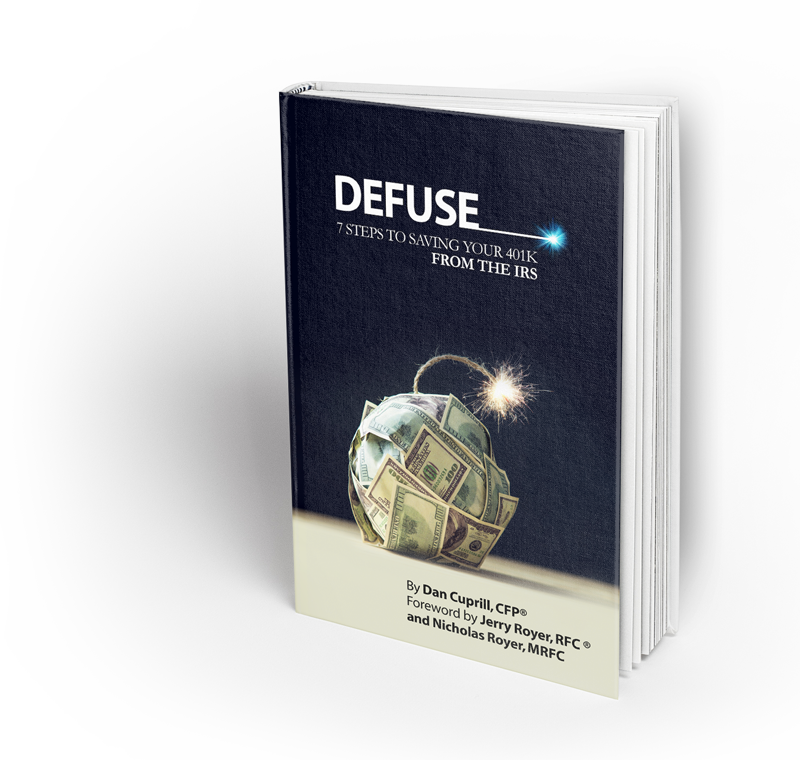 Instant Download
Fill out the form below to download the first chapter of "Defuse: 7 Steps to Saving Your 401(k) From the IRS."
Any media logos and/or trademarks contained herein are the property of their respective owners and no endorsement by those owners of Jerry Royer, Nicholas Royer or Group10 Financial is stated or implied.
Investment advisory services provided by Brookstone Capital Management LLC, an SEC Registered Investment Advisor. Group 10 Financial, LLC and Brookstone Capital Management LLC are independent of each other. Insurance products and services are not offered through BCM but are offered and sold through individually licensed and appointed agents. Investments and/or investment strategies involve risk including the possible loss of principal. There is no assurance that any investment strategy will achieve its objectives.
Insurance guarantees are backed by the financial strength and claims-paying ability of the issuing insurance company and may be subject to fees, surrender charges and holding periods.
The information and opinions contained in any of the material requested from this website are provided by third parties and have been obtained from sources believed to be reliable, but accuracy and completeness cannot be guaranteed. They are given for informational purposes only and are not a solicitation to buy or sell any of the products mentioned. The information is not intended to be used as the sole basis for financial decisions, nor should it be construed as advice designed to meet the particular needs of an individual's situation.